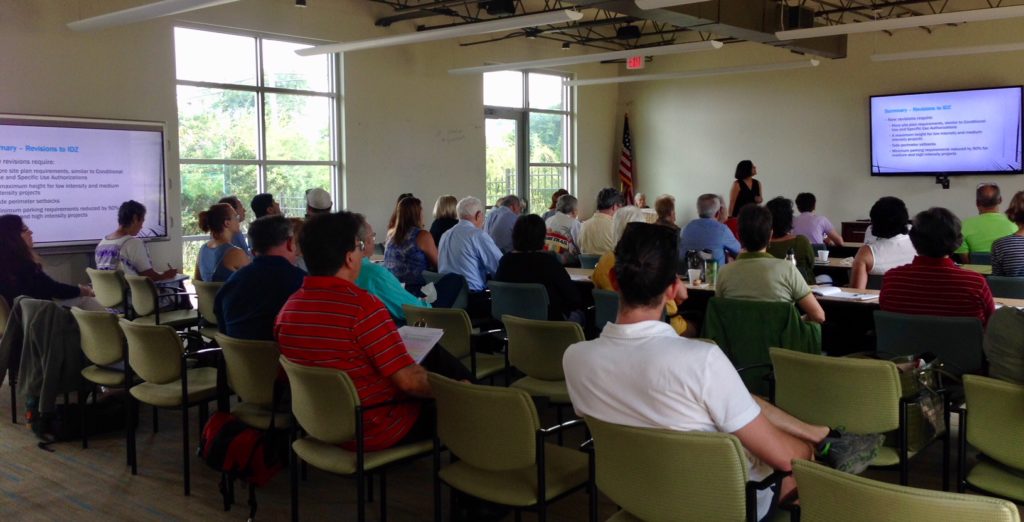 By Anisa Schell
On Saturday, June 16, residents from 22 neighborhood associations, spanning six City Council Districts gathered at Lift Fund to listen to the unveiling of the proposed Infill Development Zone (IDZ) ordinance. Catherine Hernandez and Logan Sparrow from the City of San Antonio's Development Services Department presented details about the new ordinance at a seminar hosted by the Tier One Neighborhood Coalition (T1NC).
The proposed ordinance was the culmination of efforts by the members of the IDZ Taskforce after District 1 City Councilman, Roberto C. Treviño filled a CCR in April of 2017. The Taskforce included seven neighborhood representatives from Tier One neighborhoods (those located inside loop 410), seven members from the development community, and non-voting member, Chrissy McCain from the District 1 Council Office.
The Taskforce met thirteen times over the last year to write the ordinance after concerns were raised by neighborhoods over the current IDZ category. IDZ currently allows for zero parking requirements, heavily reduced setbacks and excessive building heights in residential areas. IDZ was originally intended for use on vacant inner-city lots. In the last few years, legacy neighborhoods like Dignowity Hill, Beacon Hill and Tobin Hill have seen IDZ used by developers to divide single family lots to hold 3 or more houses where one house previously stood.
The new version of the ordinance would allow for IDZ to be split into three tiers of zoning. IDZ-1 would be the least dense, allowing 18 units per acre, which means for a 50 x 100 foot lot, two units could be built. The height restrictions would be 2.5 stories or 35 feet, and would allow for a parking requirement to be waived in some cases. IDZ-2 would be medium density, allowing heights up to 4 stories, and the highest density, IDZ-3 would allow for the most density, and would not carry height restrictions.
In addition, two Residential zoning categories would be added with the new ordinance, R1 and R2. These new categories would take into account the historic development pattern of some inner-city neighborhoods that contain much smaller lots. Currently the smallest category the City uses is R3, which is minimum lot size of 3000 feet per unit. R2 would allow a home to be built on a lot that is only 2000 square feet with a maximum lot coverage of 50%. R1 would allow a minimum lot size of 1250 square feet, the same as the current IDZ category offers. R1 would carry a maximum coverage of 45% and a max height of 3 stories or 35 feet.
After the presentation, questions were taken from those in attendance. While the proposal seems to address many of the concerns neighborhoods have raised about IDZ, some concern still remains over parking requirements in certain neighborhoods. There is another opportunity for public comment, June 18, 2018, 6:30-8:30 PM, 1901 S. Alamo, 1stFloor Board Room. More information about the proposed changes to IDZ can be found on the City's website here.